Birds of a Feather Feast Together
Reserve a Table
Please note that, in accordance with current provincial health orders, we're only able to welcome those dining with their own household group at this time, with a maximum of six people at a table.
Reopening on March 10, for service Wednesday through Sunday. 
Lunch: 11:30 am – 2:00 pm (starting March 10)
Dinner: 5:00 pm – 9:00 pm (starting March 17)
Brunch: 11:00 am – 2:30 pm (Sat + Sun, starting March 20)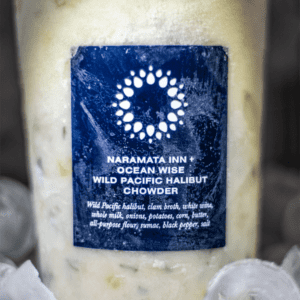 Naramata Inn's 'At Home' dining program returns with a frozen edition for the month of March, delivering the best parts of a relaxing restaurant meal without the work. These 'weekly warmers' are perfect for taking up the ski hill for family fun adventures over spring break, or for enjoying at your own dining table. 
With a limited number of orders of each weekly special and Emily's suggested wine pairings, don't wait to order for the whole month.
Pick-ups: March 10 t0 13
Okanagan Nation Alliance Wild BC Sockeye Salmon Chowder -$25
Chardonnay / Lightning Rock 'Canyonview', Summerland 2018  
Pick-ups: March 17 to 20
First of the Season's Wild Pacific Halibut Bouillabaisse – $30
Albarino-Verdejo / Terravista 'Fandango'  Naramata Bench 2019
Pick-ups: March 24 to 27
Wild West Coast Shrimp & Tomato Cream (Soup or Pasta Sauce)  – $30
Zweigelt Rosé / Roche Wines, Naramata Bench 2020
Choose your meals online, book a time to pick-up from the Inn (Wednesday through Saturday, with time slots throughout the day), and pre-pay for your order. Orders must be received by 9 pm the night before your pick-up. Alcohol can only be ordered with food, and must be picked up by someone over 19 years of age with government-issued identification.
Seasonal &

Sustainable Menus
Led by top Canadian chef and Okanagan-born Ned Bell, the Restaurant at Naramata Inn is a next-level, hyper-local dining experience. Throw in a stunning room and a passionate crew? Now you're speaking "Naramatian".
Known for his commitment to seasonal, sustainable menus (and his outgoing, all-in personality), Bell is utilizing his 30 years of expertise to showcase the unparalleled quality of the Valley. From produce to proteins, the menus will be built around the best local growers and artisans in Naramata.
The culinary team is further bolstered by powerhouse sous chefs Stacy Johnston and Minette Lotz—both Bell protégés and recent transplants from Vancouver. Because moving here is a common side-effect of visiting.
But what about the wine? Under the guidance of award-winning sommelier and wine director Emily Walker, our wine program will showcase the true depth and breadth of award-winning wines produced by British Columbia—and beyond.
The Restaurant is founded on outstanding culinary experiences, warm Okanagan hospitality, and a true commitment to local artisanship. We cannot wait to welcome you.
The Restaurant at Naramata Inn is proud to partner with the Ocean Wise seafood program, where possible serving sustainable seafood to ensure the long term health of our oceans.