Welcoming New Flock Members, Seasonal Menus, Weekend Brunch and the Return of the 'Naramata Inn at Home' Program   
Hello Friends,
We are back! And we are excited to share all our delicious news with you, our guests, fans and pen pals. As promised, our newsletter subscribers get the scoop first and there's lots to tell you.
Emerging from a recharging winter's roost, we are thrilled to announce the roll out for the reopening of the 2021 season. Chef Ned Bell and team will launch new seasonal, sustainable and hyper-local menus starting with lunch on March 10, dinner on March 17, and a much-anticipated brunch service kicking off on March 20.
The Inn will start welcoming overnight guests on Friday, March 19 and with nearly 50% of rooms already booked we are off to an exciting start.
Both the Inn's restaurant and accommodation will be operating five days a week – Wednesday through Sunday – throughout spring, with reservations available now at naramatainn.com.
While many familiar faces will be returning to the Inn this season, two notable new faces have joined the team: Assistant General Manager, Food & Beverage, Andrew Zender; and Acting Pastry Chef, Dana Ewart. Read more below.
The Restaurant
Led by top Canadian chef, Okanagan-born Ned Bell, the Restaurant at Naramata Inn is a next-level, hyper-local dining experience. The restaurant first reopens for lunch only on March 10, celebrating the return of spring with all-new seasonal and sustainable menus, available Wednesday through Sunday. Sample menus available online now, soon to be updated with the reveal of our 2021 menus next week. Stay tuned.
Lunch – March 10 
Lunch time at Naramata Inn will feature the best in harvest salads, seasonal twists on comforting favourites, and cheese + charcuterie boards. An extensive by-the-glass wine list highlighting some of the most interesting pours from the Naramata Bench and Okanagan Valley will also be on offer. Lunch service is available five days a week starting on Wednesday, March 10. From 11:30 am through 2:00 pm, diners can graze on Chef Bell's buzzworthy Outlandish Shellfish Chowder, Golden Potato Gnocchi with Fraser Valley Duck Confit, and Pacific Scallops and Crispy Pork Belly. Reservations can be made online or via phone by calling Naramata Inn at 778.514.5444.
Dinner – March 17
One of the Okanagan's most sought after dinner reservations returns on March 17.
Diners can look forward to outstanding culinary experiences, warm Okanagan hospitality, and a true commitment to local artisanship. From produce to proteins, the menus are built around availability from the best local growers and producers in the region. Menu highlights include an Organic BC Beef Tartare with Duck Egg Emulsion, Wild Pacific Halibut with Garnet Valley Celeriac Cream, and Little Cedar Falls Steelhead with Ambrosia Apple and Gelderman Farms Bacon Choucroute.
Cap off the evening with Dana's delectable desserts such as the Merroir Dark Chocolate Pot de Crème with Parterre Lavender Shortbread and Naramata Bench Red Wine Poached Pear.Dinner is available Wednesday through Sunday from 5 pm to 9 pm, and reservations for the entire 2021 season are now available to be booked online.
Brunch – March 19
Weekends are about to get a whole lot tastier around Naramata with Chef Ned's weekend brunch service launching Saturday, March 20. From 11:00 am through 2:30 pm, diners can kick off their weekend plans with items such as Duck Egg Frittata with Wild BC Side Stripe Shrimp, Apple Cider Sourdough Waffles with Naramata Fruit, or Eggs Benedict with Maple-Cured Salmon. Guests are advised to reserve now to avoid disappointment.
Naramata Inn "At Home" Weekly Warmers
Naramata Inn's "At Home" dining program returns with a frozen edition for the month of March. Each offering delivers the best parts of a relaxing restaurant meal without the work. These 'weekly warmers' are perfect for taking up the ski hill for family fun adventures over spring break, or for enjoying at your own dining table. With a limited number of orders of each weekly special and Emily's suggested wine pairings, order now for the whole month.


Pick-ups: March 10 to 13
Okanagan Nation Alliance Wild BC Sockeye Salmon Chowder -$25
Chardonnay / Lightning Rock 'Canyonview', Summerland 2018 – $54
Pick-ups: March 17 to 20
First of the Season's Wild Pacific Halibut Bouillabaisse – $30
Albarino-Verdejo / Terravista 'Fandango' Naramata Bench 2019 – $41
Pick-ups: March 24 to 27
Wild West Coast Shrimp & Tomato Cream Soup/Pasta Sauce – $30
Zweigelt Rosé / Roche Wines, Naramata Bench 2020 – $37
Choose your meals online along with any drinks and market items we may add, book a time to pick-up from the Inn (Wednesday through Saturday, with time slots throughout the afternoon), and pre-pay for your order. Orders must be received by 9 pm the night before your pick-up. Alcohol can only be ordered with food, and must be picked up by someone over 19 years of age with government-issued identification.
More information can be found at NaramataInn.com/Eat and orders can be made on Tock.
Our Flock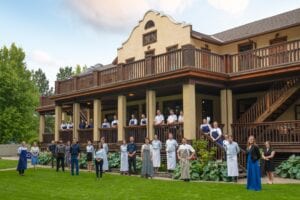 They say "birds of a feather flock together," which is evidenced by the many familiar faces returning to Naramata Inn for the 2021 season, along with a few notable new members.
Naramata Inn ownership is delighted to welcome Andrew Zender to the team as Assistant General Manager, Food & Beverage. Zender is a 20-year hospitality veteran, joining us most recently from seven years managing front of house operations at the Kelowna Yacht Club.  The well-connected, dedicated and affable father of twin girls is skilled in the processes of creating memorable and seamless culinary experiences for discerning guests. Well-respected for his ability to empower and elevate his staff, Zender is a hands-on, service-driven professional whose style and values mesh well with Naramata Inn's focus on local.
Zender cites Naramata's designation as one of only four Canadian Cittaslow-approved towns, and one of the country's only eight distinct wine sub-appellations as evidence of the area's uniqueness.  Excited to learn, embrace and share Naramata's distinction and delicious qualities, Zender's focus is ensuring exceptional service levels for Naramata Inn restaurant guests.
Dana Ewart, co-founder of Joy Road Catering, heeded a call from long-time friends and Naramata Inn operators Ned Bell and Kate Colley, to share her monumental credibility, passion and talent for "Okanagan local" with the Inn's spring dessert and pastry program. Ewart, and her partner Cameron Smith, remain the benchmark for the magical "sense of place" culinary experiences that result from an unwavering reverence for local, seasonal ingredients, and the people that grow, tend and make them.  Joining Naramata Inn for a seasonal cameo, 2021 will see the launch of a lineup of Dana's to die for desserts, which are a delight for both diners and the entire Naramata Inn team.
Hard work, talent, results and personality are the reasons several of the Inn's inaugural season staff positions have taken flight. We are thrilled to acknowledge the return and promotions of Reza Houshmand, Director of Operations; Olivia Grant, Groups + Events Manager;  Jonathan Collard, Guest Services Manager; Zach Wheeler, Assistant Restaurant Manager; Bar Manager, David Levesque; and Sous Chef, Taylor Brand.
Naramata Inn is always looking to spread its wings to bring exceptional people on to the team. We are currently hiring servers and chefs  –  please apply here.