We've made Christmas shopping easy for lovers of local food and wine. Naramata Inn is offering a variety of holiday treats and gifts that bring the Inn experience to those on your naughty-or-nice list. Shop the online store for stocking stuffers like homemade preserves and honey, along with signature beach towels and robes, and much more.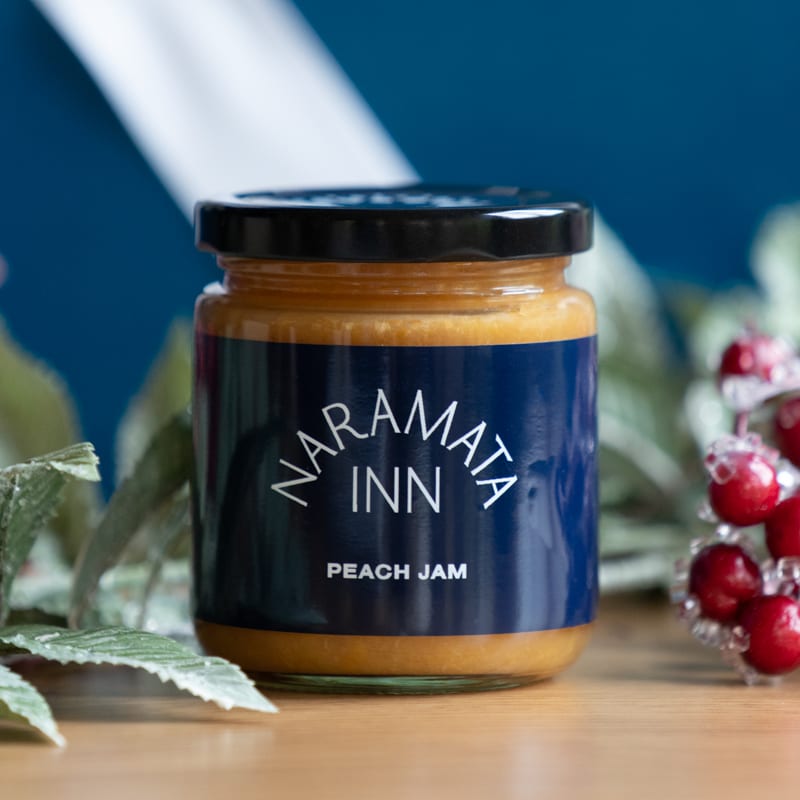 Peach, Apple & Pear Preserves – You know what we learned last year? Our guests and fans LOVE our jam. So we made a lot more to meet demand. We've made a mouthwatering line up of preserves using luscious, in-season Naramata fruit. The result is a sweet addition to breakfast toast, afternoon scones or a cheese plate!
Bonus – we are sharing a recipe for the perfect Pain Rustique from our baker, Dana Ewart!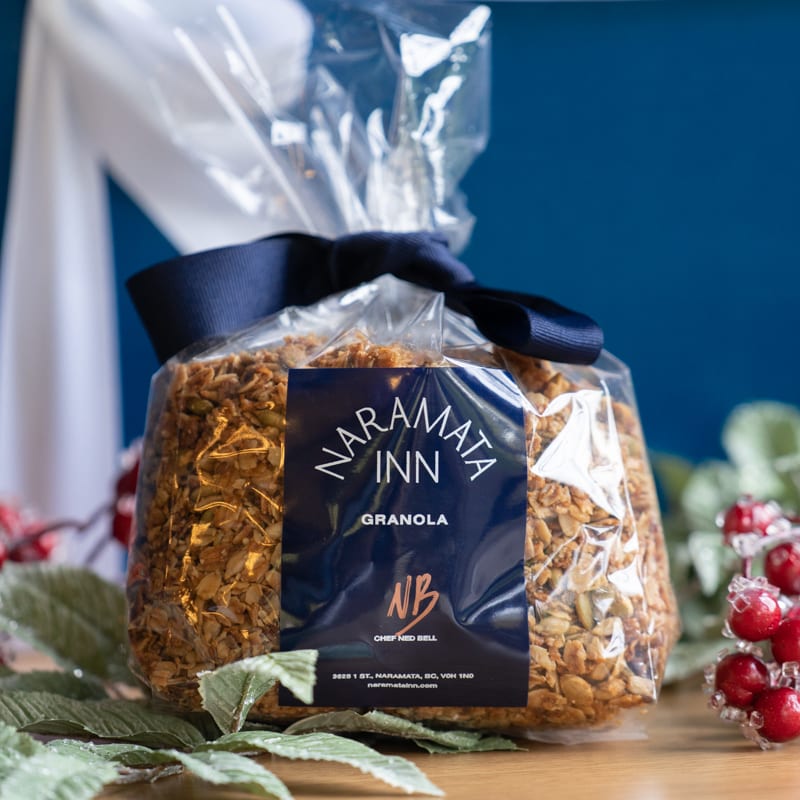 Apple & Cherry Granola – A Naramata Inn favourite, our house-made granola is great for breakfast, snacks, parfaits and more. The perfect host gift and Christmas morning secret weapon, our granola features sun-dried cherries and Okanagan apples, is nut-free, vegan and full of healthy seeds.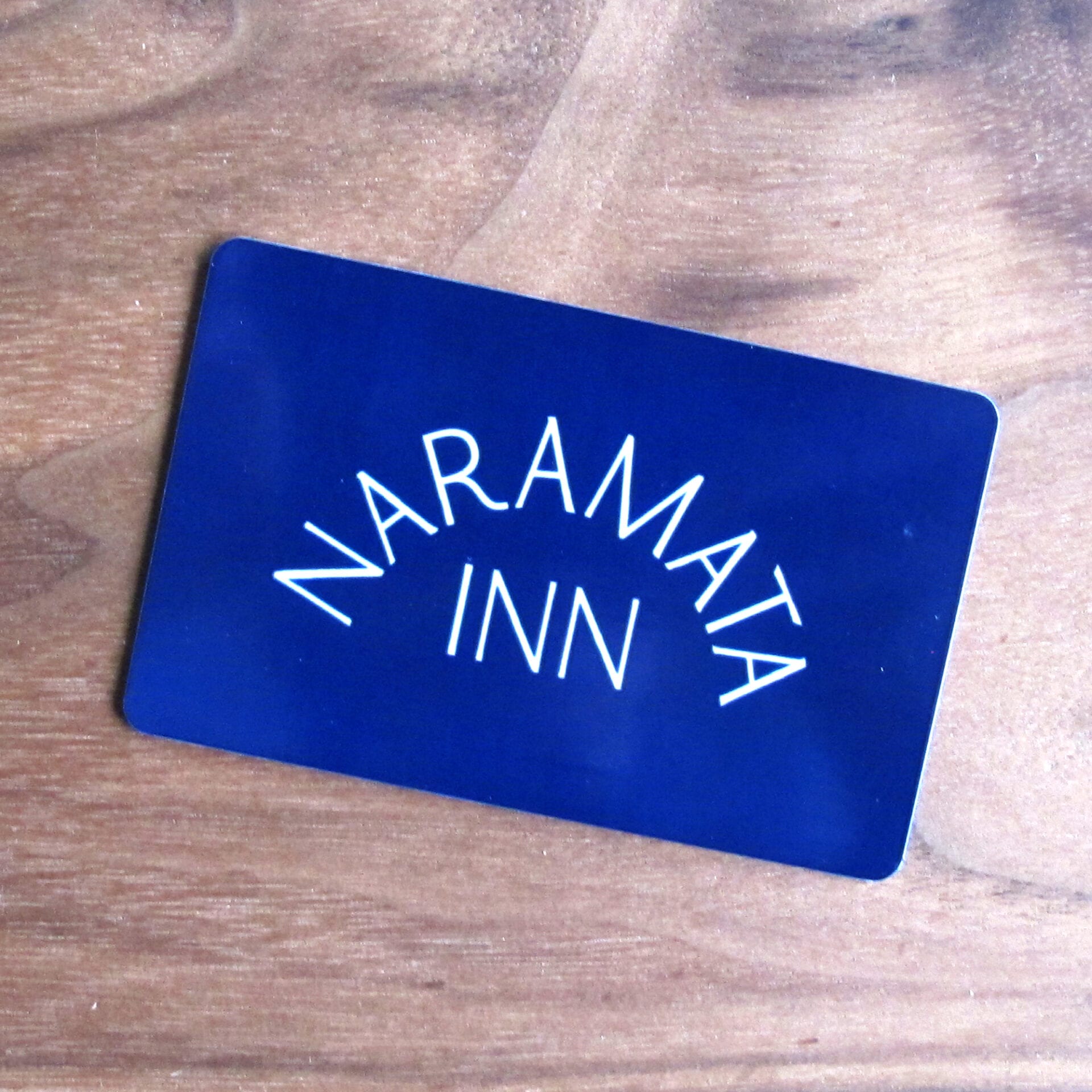 Gift cards – Not everyone will be able to make it to Naramata Inn this holiday season, so give the gift of an "Inn Real Life" experience for 2022 tucked in with a few of the treats available online. Even better: spend over $500 in total on gift cards in the one transaction, and Naramata Inn will give you your own bonus gift card worth 10% of the total.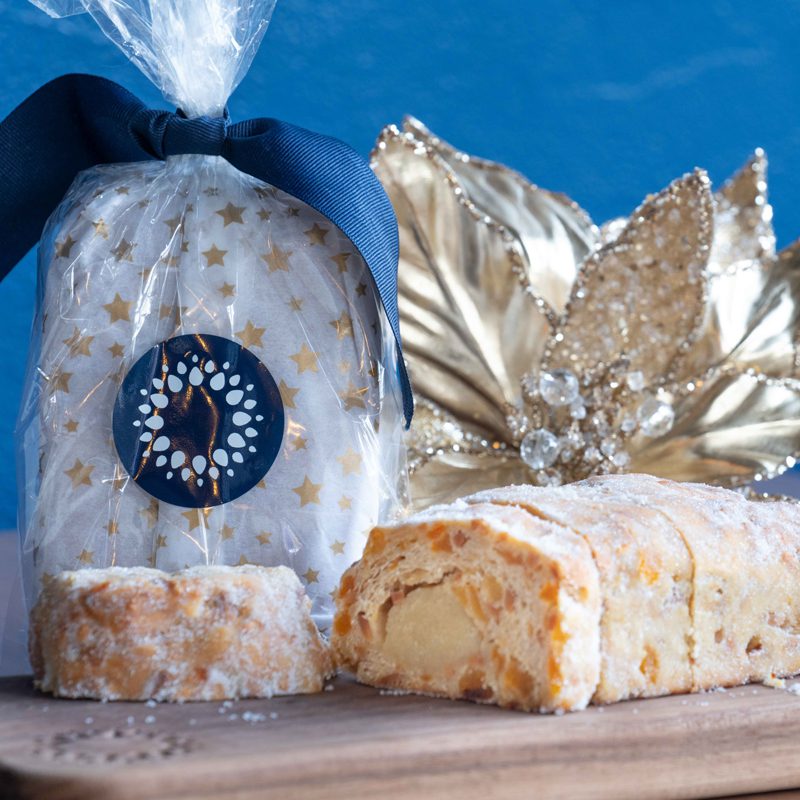 Stollen – Let's be honest, no one ever says fruitcake is their favourite holiday treat. But this is different. This is stollen—fruitcake's bready, marzipan-stuffed, sugar-dusted German cousin. Our stollen recipe originates from Swedish royalty via the now-closed (but forever missed) Four Seasons Hotel Vancouver. The recipe is expertly replicated by our good friend, and former Four Seasons pastry chef, Mark Burton of Best Kind Bakeshop. Psst – Vancouverites can pick up some holiday stollen direct from Best Kind if they act fast!
The legend began when pastry chef, Gerhard Weitzel was given the recipe from a friend who worked for the King of Sweden. Weitzel started making the traditional Christmas bread himself at the Four Seasons three decades ago, producing up to 900 loaves per year. To meet demand, Weitzel returned to the hotel bake shop for many years after his official retirement to keep this holiday baking tradition alive and well. The recipe, and torch, was passed to Mark, along with some of the original wooden frames used for baking the most irresistible holiday bread.
Each 80-loaf batch calls for 6.6 pounds of butter for the marzipan centre alone and another 10 pounds of butter for the dough, along with golden raisins, 12 two bottles of rum, and the zest of 25 oranges and 25 lemons. NOTE: This item is only available for local "Inn person" pick-up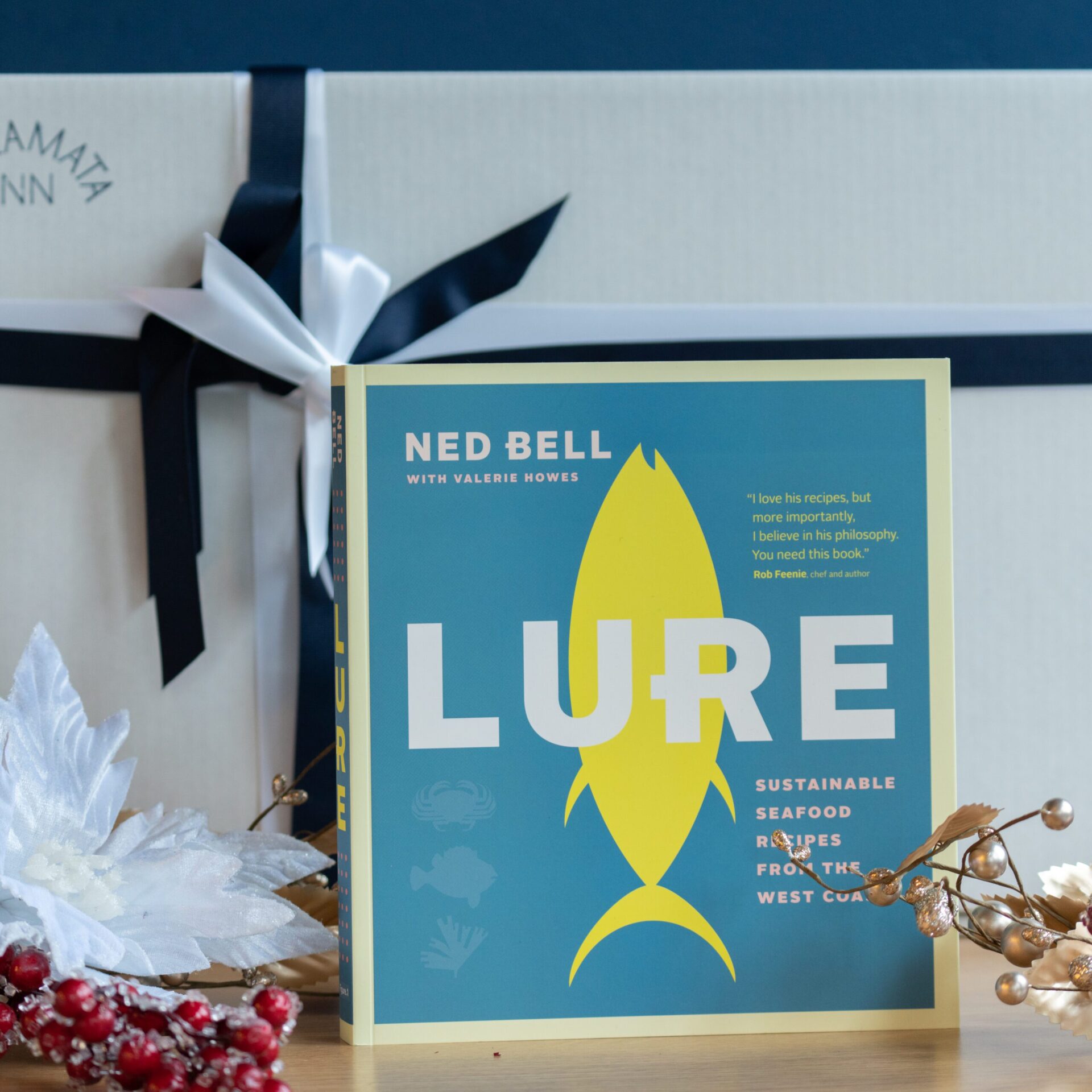 Chef Ned Bell's Lure Cookbook – Give a signed copy of Chef Ned Bell's cookbook, Lure: Sustainable Seafood Recipes from the West Coast. Eating sustainable seafood is about opening your mind (and fridge) to a vast array of fish and shellfish that you might not have considered before—and the Pacific Coast is blessed with an abundance of wild species. With Lure, readers embark on a wild Pacific adventure and discover the benefits of healthy oils and rich nutrients that seafood delivers.
Signature Bath Robe – Wrap up and relax in the Inn's signature waffle weave cotton robe, embroidered with the Inn's icon. One size fits all.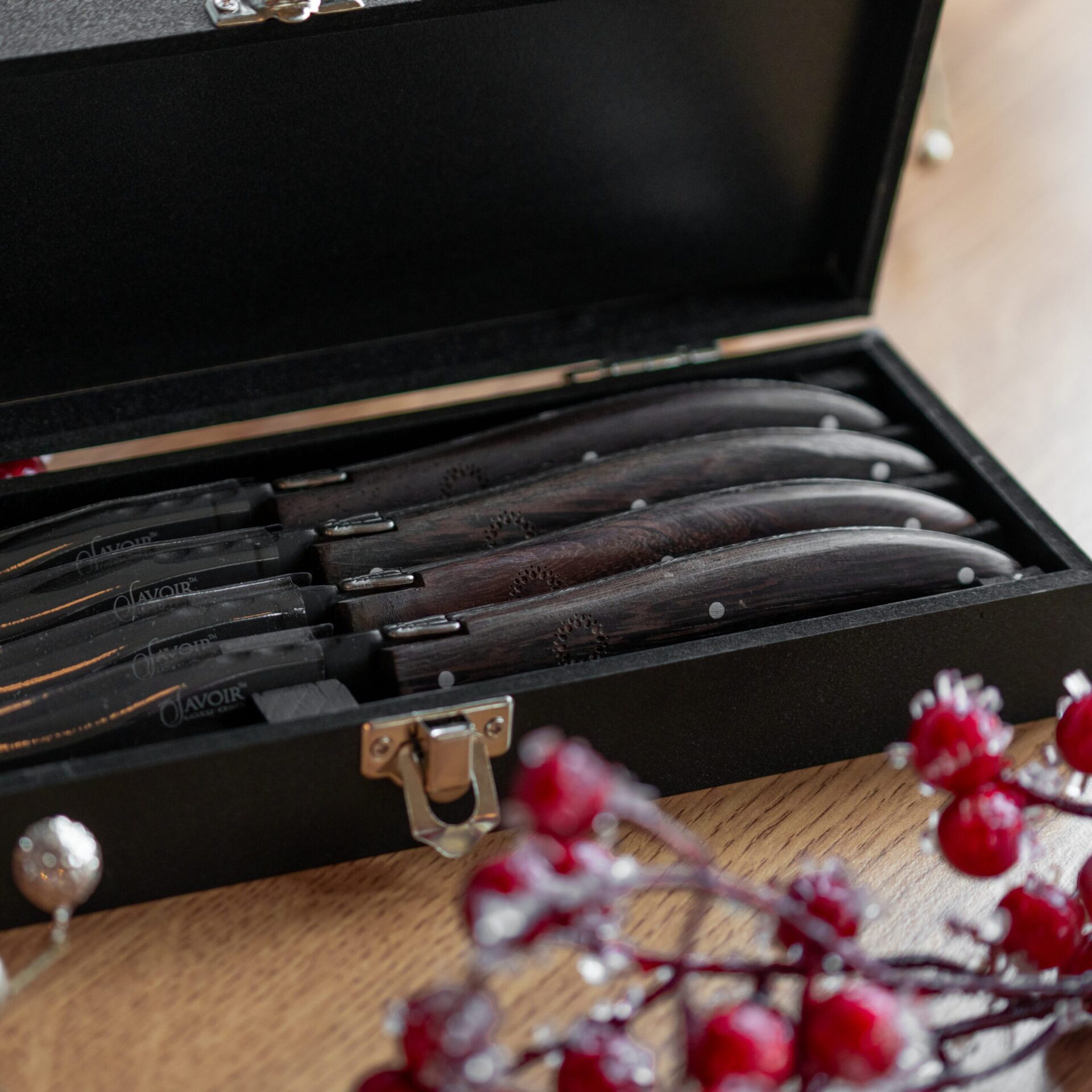 Signature Steak Knives – Up you dinner table style with a set of four Naramata Inn Savoir Laguiole steak knives. These are the very same knives as we use in our restaurant, with stainless steel blades finished with black Teflon, and our icon laser-engraved into the handsome wenge wood handles. These are gorgeous.
We think your gift-getters will love a slice of Naramata Inn under the tree. Join our mission in celebrating the very best of the Okanagan's bounty, gastronomy, artistry and lifestyle – all in one magical little village.
Visit naramatainn.com/store to view all gift giving options. Shipping is available Canada-wide.